After our jaunt into the past - with all of its surprises - we headed back to the present with a few days in Lancaster, PA. As planning for this trip turned out, we arrived in Lancaster on a Saturday night and our first day there would be a Sunday. We have been avoiding being in Lancaster on Sundays. Most of the local attractions here and the local Pennsylvania Dutch restaurants are closed on Sundays. This is an area where the main attraction is the large Amish and Mennonite farm population. These are very religious people. There entire lives are lived around their religion and their beliefs and business on Sundays does not take place.
What is left to do in this area is everything that is non-Pennsylvania Dutch related. There are large outlet centers here. This was one of the first areas in the country with outlet stores and I am talking back to the 1960s. In addition there is the Strasburg Railroad, a steam locomotive railroad attraction that will take you on a ride on an old steam engine pulled train through the farmlands of Paradise, Pennsylvania. Across from the Strasburg Railroad is the Pennsylvania Railroad Museum with an extensive collection of engines and rolling stock. The museum will appeal to the "rail fans". The Strasburg will appeal to everyone and it also has small train rides for the kids. Right next to the Old Mill Stream Campground is Dutch Wonderland, an amusement park for younger children. This is a perfect way to spend a Sunday with young kids. If you are up to driving a slight distance, Lancaster is about an hour or so to Gettysburg and in another direction to Hershey. You can visit the Civil War battlefield in Gettysburg (this year is the 150th Anniversary of the three day battle which took place from July 1 through July3). In Hershey there is a large amusement theme park, an attraction about making Hershey's chocolate, and a zoo.
One of the best things to do on a Sunday in Lancaster is take off in your Roadtrek (or car) and head onto the roads that run among the Amish farms and enjoy the rolling fields and hills which depending on the season are either being planted, harvested, or sitting waiting for the warm weather to return. You will pass fields of cows and horses. You will see Amish and Mennonite homes that have no electricity and plumbing that is supplied by a windmill pumping water to the house from a well. In a way we were still time traveling - but this time we were looking in on people living in a way that many today have forgotten how to do, but that these people do every day of their lives. Amish transportation is a horse and buggy and you will see them on every road including some very busy roads along side car and truck traffic.
Sundays for the Amish are either Church Sundays or Visiting Sundays - these alternate week to week. Either way you will see Amish buggies on the side roads either on their way or coming home from their services or from visiting friends on their farm. You may see Amish children and teens playing ball. You may see large gatherings of people outside a house on a farm. This is how the Amish spend their Sundays and as a visitor if you keep your distance, don't stop, but drive by you can witness this part of their lives.
I have said this in almost every article I have written about visiting Lancaster. Be very careful of the buggies on the Road when passing them. You will inevitably encounter a horse and buggy on a hill on a one lane in each direction farm road - which most of them are - and these roads turn and climb in such a way that you are blind to any traffic coming down in the single opposite direction. It is best to wait until you have reached the top of the hill and can see clearly what is coming toward you in the opposite lane before you attempt to pass the buggy. Yes, this sometimes means driving at 5 mph with a line of cars behind you but it is better to wait than to risk your lives and the lives of the people in the buggy. It is not uncommon to see the results of those who did not follow this simple advice.
Another thing to be aware of in this area. It is against the Amish religious beliefs to have photos taken of them - in particular their faces. Do not take pictures of them. At a distance you may photograph the back of a buggy as it goes past and you can photograph the beautiful fields and farms, but not the people. Following this is a sign of respect. The Amish are not unapproachable and if you would like to talk to an Amish person you will encounter them (on any day but Sunday) at a variety of businesses that they work at or at a farm stand on the road at the edge of a farm where many Amish sell produce to those driving by. But you will not see any that are open on a Sunday.
We left the campground that Sunday morning after arranging with the very nice people who are in the office at Old Mill Stream Campground to move to one of our regular sites which would be available that afternoon. We made a stop for lunch - nothing exciting is open in the way of lunch restaurants on a Sunday so it was lunch at McDonalds and then headed out for a drive through the farm fields. And just as I indicated above we encountered more than one buggy climbing a hill.
We also headed over to the Strasburg Railroad, but not to ride the train but to see the trains. There is construction going on now at Strasburg and there have been some changes made to the children's attractions there. The small steam train ride has been moved and now spreads the length of the property making the ride - for kids and adults - longer. At one end of the line there is a small turntable to turn the engine in the opposite direction and this is something most have never seen in operation. This small it is easy to see how it works and is a must to show kids whose heads now think in terms of computers and electronics instead of mechanics.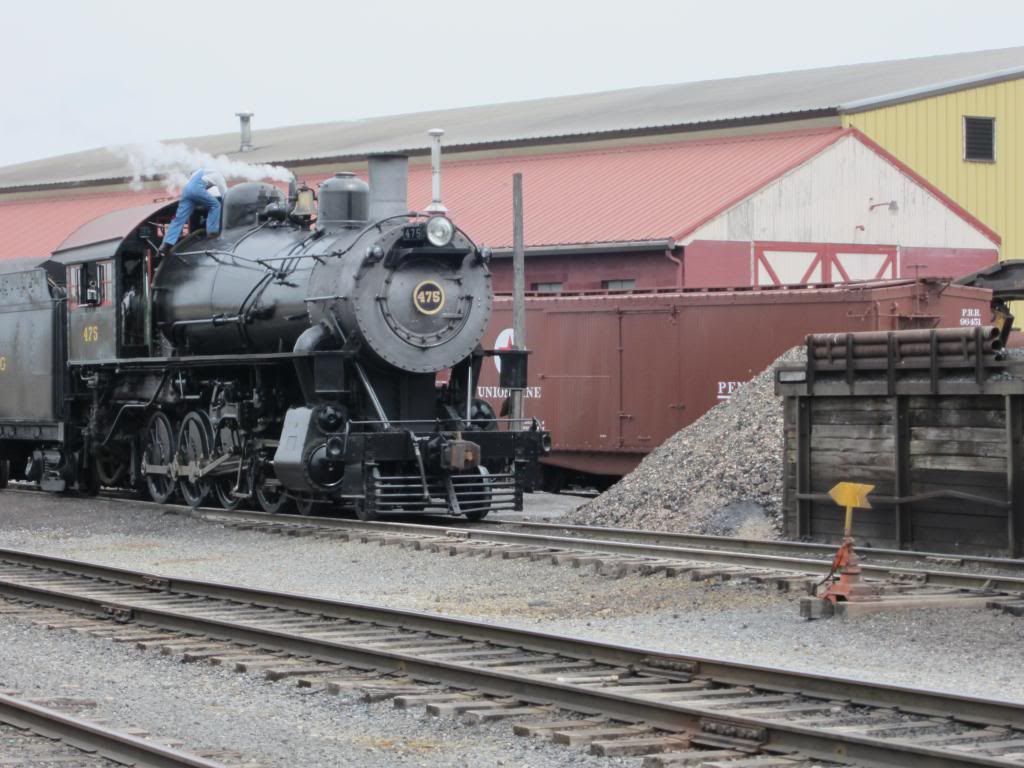 While most think of these steam trains as coming from the 19th Century, many that you see in operation in museums like the Strasburg Railroad actually were in use in the United States until the 1950s. Today you will only see them in places like this.
We left the Strasburg Railroad to do some mundane things like shopping and of all places that we could go to any day at home we went to Home Depot for a few things that we would need at home when we got back. After that we had dinner, our usual trip at night when traveling to Walmart (it is more for a place do some walking for exercise than for shopping though we get some shopping in too), and then headed back to the campground. As promised by the hosts, the site we wanted was empty and we pulled into our usual - and level - site.
Sunday night TV is not particularly exciting, especially late night TV. The campground has cable but on this particular Sunday night there was nothing of interest on. There would be on the digital over the air signals through the antenna and I put the antenna up and switched the TV and the A/B switch over to Antenna and started the TV scanning for channels. I had the antenna pointed toward the city of Lancaster where most of the broadcast signals come from. We have had good reception here - in this site - in the past. That night - nothing. I spent almost an hour turning the antenna and scanning without results. I just gave up and switched back to what little there was on the cable. I mention this only because that night I decided to get a Digital Signal Finder that connects to the antenna and takes away all of the guess work about pointing the antenna. I had seen one in the shop at our Roadtrek dealer. Every time we are there I look at it and don't spend the $40 to buy it. I decided that now I was definitely buying this. (A future article will tell you where to easily get it and how it was to install - and how it works.)
Perhaps you can see now why we avoid Sundays in Lancaster. I am not saying that you should too but after visiting this area for more than 50 years I have found the same about Sundays. Now we plan our trips to spend the week while all things are open and leave late Saturday night for home.
My tales of this trip will continue as we have three more days before we head home.