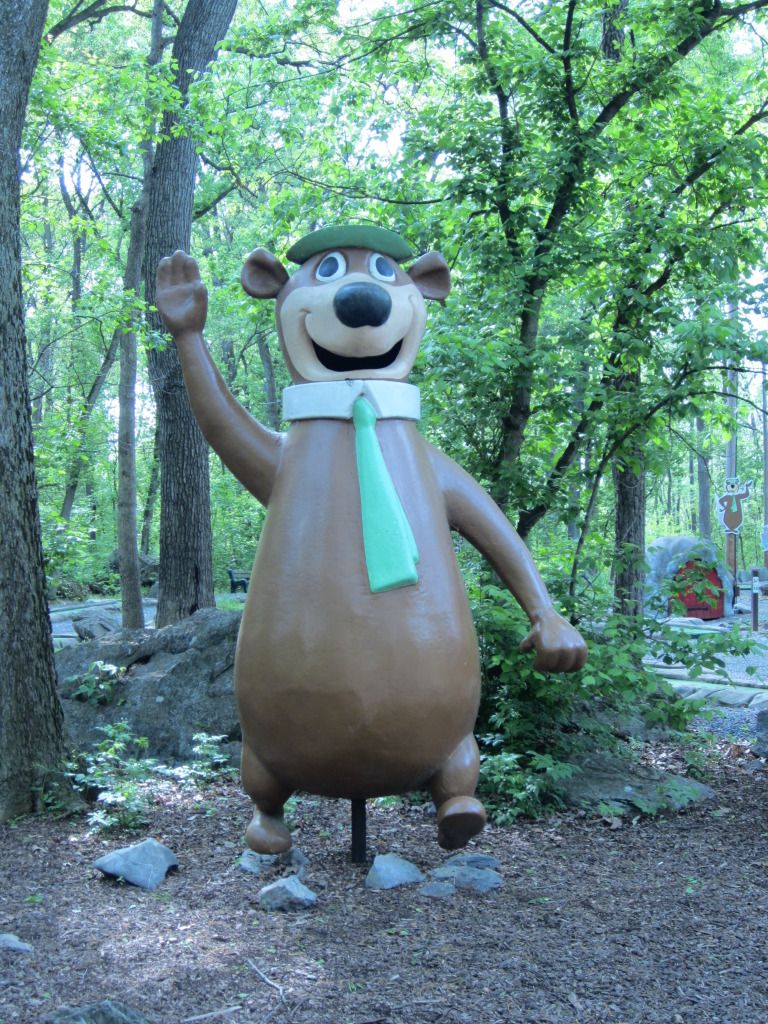 The Yogi Bear Campground is listed as the Hagerstown Yogi Bear Jellystone Park Campground is listed as being in Hagerstown, Maryland but it is actually located in Williamsport, Maryland which is southwest from the city of Hagerstown. We stayed here for three days and two nights on our recent trip to Maryland.
There are two campgrounds in this area to choose from. One is this Yogi Bear campground and the other is a KOA campground. I did some research and made some inquiries about the two campgrounds. I decided upon the Yogi Bear because reviews of the KOA kept mentioning the narrow entrance road that road along the edge of a river with several cautions about going off the side. The reviews of Yogi were mixed, but decided that as we would be coming back from our day activities late at night, I wanted to be sure of the road that I would have to take coming into the campground in the dark.
The purpose of this trip was to attend a colonial market fair held at Fort Frederick historic park in Big Pool, Maryland which is located northwest of Hagerstown. I may not have mentioned this before in my articles but Meryl and I are Revolutionary War living history reenactors. The event at Fort Frederick is one that many reenactors attend in 18th Century clothing and this is how we would be attending. One of the things that I have always heard about Yogi Bear Campgrounds is that they require all who stay to wear wristbands showing that they are registered - and from what I could learn about this particular campground, they are very strict about enforcing this rule. There was no way that we could attend this event with adhesive wristbands on our wrists. When we made the reservation, we explained this and we were told that arrangements would be made so that we would not have to wear the wristbands but we must have them with us at all times when we were on the property. Fine.
Finding this campground is a bit tricky when routing by GPS. The address that is given to route to this campground brings you to the correct location, but the GPS was determined to route you there in such a way that it involved a road that did not exist. It was necessary to find the road with the actual entrance and mark a waypoint on the route to get you to that point on roads that do exist.
I decided that it would be best to arrive at this campground for the first time during daylight and we left Pennsylvania for the two hour and fifteen minute ride so that we would come in to the campground around 4 pm. My tweak of the GPS route got us to the entrance. The entrance is very hard to see as it is tucked back from the road in the woods. There is a sign but the sign is also offset from the road and it comes up very quickly at a point at which there appears to be nothing there. Once into the drive and though the trees on a narrow one way entrance road (there is another exit road parallel), you are greeted by a large Yogi Bear, much like the photo above. (The photo is of the Yogi at entrance of their miniature golf course.) You then proceed down a long poorly paved road that is full of potholes. Avoiding these potholes is not easy - and there are some that you cannot avoid. As you continue weaving around the potholes you come to a building which houses their registration office. There is a sign to park along the side of the road and as we arrived there was a large Class A with a car towed behind it in front of us. If we parked behind it we would block the entrance so we waited awhile until the Class A driver came out and moved their RV. Time went on when we decided to just leave the Roadtrek on the side behind the Class A and go inside.
Registration was easy. The people behind the desk were very nice and welcoming. Next to us was the Class A driver and she was there without reservations and they were finding a site for her. We were told what our space was, given a packet of materials explaining the campground, and also were told about the special event that was taking place on Friday and Saturday - Mardi Gras Weekend. We would be there Friday. We had no intention of going to the Mardi Gras activities as we had our own plans for the day and night. Then we were handed our armbands. We explained what we had explained when we made the reservations and were told that this would be no problem as long as we had them with us. We were also given a sign to put on our windshield while we were in the campground. The reservations were paid for in advance in full - which was the only way they would make the reservation.
You don't just drive to your space here - you are escorted by a "ranger". We were met outside by a "ranger" driving a golf cart and he told us to follow him. When we made the reservation we were told that the standard RV site and the premium RV site would be the same price and we were given the "premium" site. We followed the "ranger" down a narrow dirt/gravel/paved road - again full of potholes. We came out of the woods into an open area with large RV sites - much larger than the Roadtrek. This was where our site was to be. But the "ranger" stopped and we could see him talking into his walkie-talkie. Something was obviously wrong. We waited a few minutes and then got out to find out what was going on. It seems that a large trailer was in the space that we were assigned. Suddenly, the Class A that had been in front of us came up behind on the road we were on with a "ranger" in a golf cart leading her. Our "ranger" told us we had to pull to the side of the road and he did the same. He directed us into a cut in the side of the road. The Class A pulled into the site that was next to the one that we were supposed to be in. Apparently, the trailer was not scheduled to be there that day and was supposed to have left that morning. Obviously, it did not. Our luck. There was a lot of chatter with the main office over the walkie-talkie and the manager was to be coming to decide where to put us. There appeared to be a lot of open spaces right there, but this was Thursday and perhaps there would be a big crowd arriving Friday for "Mardi Gras". OK. We were told to turn around and follow the "ranger".
I wish it was just that easy. The cut that we were directed into posed no problem for a golf cart as he could just swing right out and move in the direction from which we had come. The Roadtrek had no room to go forward and turn around. A u-turn was required. I pulled out, pulled forward, and then started pulling back to back into that same cut so that I could turn in the direction that we now needed to go in. Surrounding this cut were trees and boulder sized rocks along the edges and sides. As I backed up with the limited visibility of the Roadtrek to the rear and the angle of the backup camera, it appeared that I was clear until I heard the thud of what had to be my hitting one of the boulders. My heart sank and I had some unpleasant thoughts about Yogi Bear. There was nothing that I could do at that point - and we had to follow the "ranger" to our new site. We drove back along the road that we had come down on and back into the woods. We followed the "ranger" to sites that were surrounded by trees - and large rocks. This was not at all like the "premier" area that was wide open. This was literally in the woods. We were directed into a short pull through site. There were trailers all around us in the sites that were occupied. It took a sharp turn to avoid a large rock to get into the space. Once in the space I moved the RV around to see how level the space would be and did find a spot that was just about level in both directions - I did not find that spot again no matter how hard I tried for the rest of the stay.
The "ranger" checked that the water faucet was working. It was. The "ranger", who by the way was very nice, waved goodbye and was off. I looked at the back of the Roadtrek to see what damage I had done when I hit the rock. I could not see anything on the bumper and I suspect that I hit the van exhaust pipe. I hope that was it because there are a lot of things that hang down under the Roadtrek and if I had hit the generator I would have ruined it. The first thing that we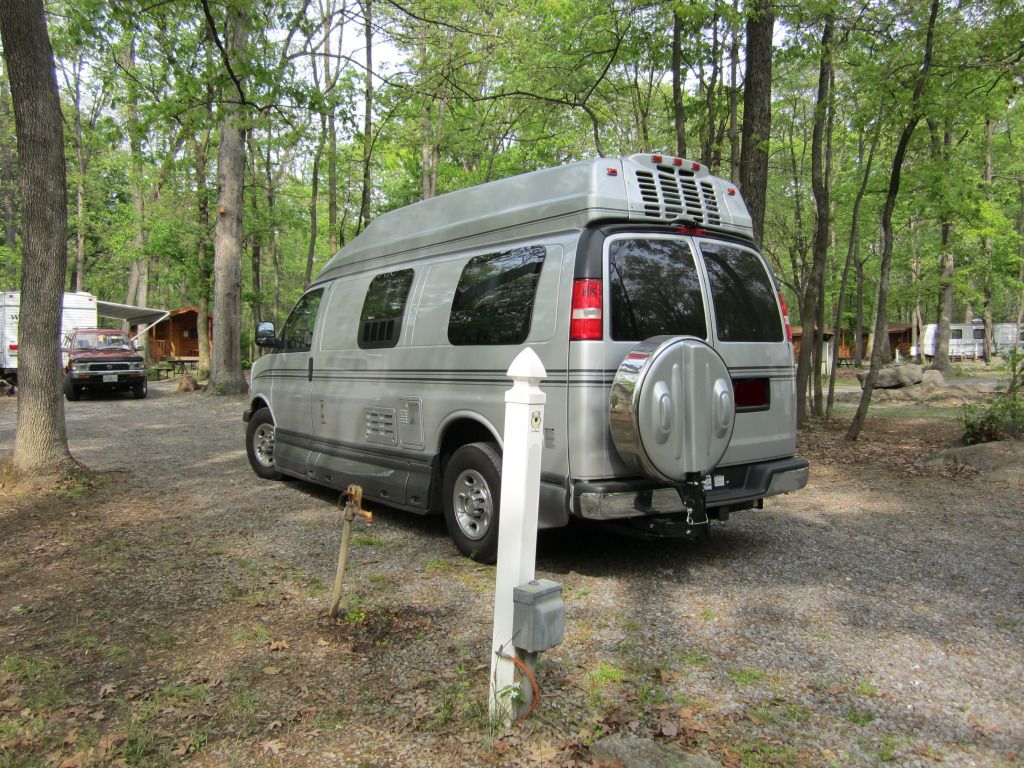 do when we arrive at a campsite is check the electric service at the power post. This was the most unusual power post that we have come to so far and probably is not uncommon. This was a 30 amp site - no more "premium" site - on the map this was marked "standard". There was a 30 amp outlet and a 20 amp outlet. There were no circuit breakers - so far at each campground that we have been to there have been circuit breakers. It appeared that there were fuses. It did not look like Yogi had updated the power posts in some time. The box was also close to the ground and we could see that our power protector when plugged in first would be on the ground - which should not be a problem though there was a forecast for rain - when we eventually actually hooked up the power we set the Surge Guard on one of the large rocks that was in front of the electric box. The power tested correctly and that is what is important.
We decided that since it was just barely 5 pm we would take in the sites of Jellystone Park. The Yogi Bear campgrounds present themselves as resorts - and charge extra for this in the way of a required $4 per person fee per day in addition to the site fee. As we were really here off season, and we were leaving on Saturday - the start of the weekend - we did not have to pay this fee. During the summer and "in season", the fee is applied every da
y. We were curious to see what it was we could have been paying fo
r. Of course, the theme is Yogi Bear and everything is geared toward that theme and to families with children. There is a large water slide, pictured here. This slide goes into the swimming pool which, by the way, at the end of April while we were here is closed. The swimming pool was large and looked to be very nice when it is open. Walking down the road to get to the slide and swim
ming pole we passed Yogi's miniature golf course, a playground, and an outdoor movie theater.
As we walked through the campground we were passed by "rangers" in golf carts. Each would wave and say hello as they went by. Again, the staff was very nice here. We saw a
sign for "Cindy Bear's Go Carts". We followed the sign into another area of the campground and did not find the go cart track - it is on the map. As we were heading back, we passed this little mining town building with a slouse gate and a place to pan for "real" gold. This was not open but there was a sign that there is a charge to pan for gold. Everything else that we saw including a building with laser tag seemed to be included with the stay.
As we were walking back to our site, we decided to see if there was access to the road in front of our site so that we could come around the next time we came in and back in, avoiding the rocks and trees. We followed one road and then another and did find that the roads looped around - be it through trees and more boulders but they did come around and would lead to the front of our site. What we did not notice at the time was the lack of any road lighting along any of the roads.
Actually this is mild compared to what some of the terrain and roads are like here. Yes, it is Jellystone Park, home of Yogi Bear and bears live in the woods. I did not imagine that the theme was taken so literally. During the day, it is not much of a problem. You can see the holes in the road. You can see the mud. You can see the large rocks. You can see the trees. Come back at night and the campground is pitch black. The only lights come from a few cabins scattered through the campground areas and whatever lights are coming from RVs and trailers. You can no longer see the road. You can no longer see the rocks. You can no longer see the trees - until you are too close.

Coming back to the campground that night we missed the entrance to the campground off the road. As I said, it is set back and guess what - no lighting. So we drove about a mile down the road until we came to a cross road and luckily, it was possible to make a u-turn, as there were no cars coming down that road. This is not a deserted area. There are houses scattered along.

We got back to the entrance and drove very slowly until we found it and pulled into the dark entrance road and realized just how much of an obstacle course getting in and out of here on these poorly paved, potholed roads is. And to make it worse - no lights other than your headlights. We had scouted out this other way to get to our site and decided that we would try it. We thought we knew how to go. We headed down the road that we were sure it was and it got even darker and we were surrounded by trees. I had Meryl get out with the walkie-talkie to walk on front and guide me through. We crawled along and came to what appeared to be a road climbing a hill into darkness. No way was I going down that road. I gingerly backed up to another road that we had just passed that appeared just to go into the darkness of the woods. I do not know how large Class A's or trailers come through these roads. I looked at the turn I had to make between two very large trees and several boulders and I was certain that there was no way I could get through without scraping up the side of the Roadtrek against one of these trees. I had a very agitated discussion with Meryl about getting me through this small turn and she guided me in. We pulled down that road and could see that we would connect to the road that led into our campsite. We got there and backed in.

It was easier to get into the space this way, but it put us in a position on the gravel on the site that we were at a different angle than we had been in that afternoon. I backed up and to the side and forward again looking for an almost level spot. I knew there was one here somewhere. I could not find it. I settled for a spot that was close to level but actually off to the front. I would rather have my head up in bed than my feet. Side to side was a compromise as well. With the precarious ride to get to the site and the time it took to get level enough to be comfortable, it was getting late - and we had a big day ahead of us on Friday. We got out and hooked up, went back inside and settled in.

Wifi service was fair but adequate. Cable television was very good. There was a large number of good cable channels and many came in in both HD digital and analog. We have yet to be in a campground other than this one where the cable signal is digital and this is because of the conversion of cable companies and satellite to digital and the campground converts the signal back to analog to avoid needing a special box to tune in the channels, like the set top box you have at home from the cable company. Without the conversion by the campground every RV would need a box specific to that provider company.

While we had been walking around that afternoon we checked out the restrooms and shower facilities. They were all clean but were dated. There did not look like there had been any change in them since they were put up, though the men's room did have waterless urinals which is a recent thing.

The next morning we dressed in our colonial clothes, got outside at the site and unhooked the cable and the electricity. We must have looked like we were ready for the Mardi Gras and we attracted the looks a several campers and children. We headed off for Fort Frederick.

When we returned that night we took the easy way to the back of the space and pulled through just being careful of the trees and the rocks. We got into the space and went through the dance of finding a not level but suitable place to stop. The next morning again, we dressed in our colonial clothes, got out to unhook, got more stares and got back in and left Yogi Bear Campground heading once again to Fort Frederick, from which we would leave that evening to head back to Pennsylvania.

Now, will we come back to Yogi Bear next year when we return to this same annual event at Fort Frederick. At this point, I will say probably. The rate was reasonable. The location for where we needed to go was fine. I did not like the condition of the roads in the campground - for a so-called resort with extra fees, things should be in much, much better repair. The entire campground of roads needs re-paving and the road in and the road out is treacherous and terrible. It would be easy to miss avoiding a large hole - and there were some very large holes and do a lot of damage to your axle or your under-carriage. I suppose people like feeling that they are in the woods. I would rather this be not quite so woodsy and that there were at least a few street lamps on the roads in the campground. Anyone walking at night takes their life into their hands. There was also a problem with campers' dogs not on leashes. We saw several and encountered one pooch that ran off from its owner who was at the side of their trailer and decided to chase us. I have little problem with dogs - as long as they are small - but Meryl is frightened of dogs and always has been. This one was yapping and snapping at our legs. The owner called the dog - lots of luck if this dog cared. He eventually came over and got him - too late though for Meryl who was trying hard to just get away from there. There is supposed to be a rule here to keep pets on a leash but this was not enforced.

I am not sure where else I would stay in this area. We did not have an opportunity to see the KOA campground though we did see a sign on the Interstate for the exit to take to get to it. Aware of what I am now aware of and what to look out for when coming into the campground at night, I would likely come back.

Not far from this campground is Antietam Battlefield of the Civil War (also called Sharpsburg depending upon which side you are from North or South). It is an excellent place to visit and I have been there many times in the past before our Roadtrek days. We will likely go back again. This is also a good location to visit Harper's Ferry National Park in West Virginia which is very close by. So there may be reason for you to be visiting this area - other than Fort Frederick which is a musuem and has a real 18th Century military fort to tour besides the events that take place there. If you decide to visit here, and come to stay with Yogi, you have the whole story now. There is a Walmart in Hagerstown and a Pilot Truck Stop that both allow overnight parking of RVs if you would like to stay without a hookup.