Monticello was built under the direct supervision of Thomas Jefferson on top of a mountain. Everyone at the time thought that this was crazy but if anyone was going to be able to do this feat, it was Jefferson. During his adult life, Monticello was a home always under renovation - add a little hear, change something there. What you see when you come to Monticello today is the building restored completely to as it was when Jefferson lived here.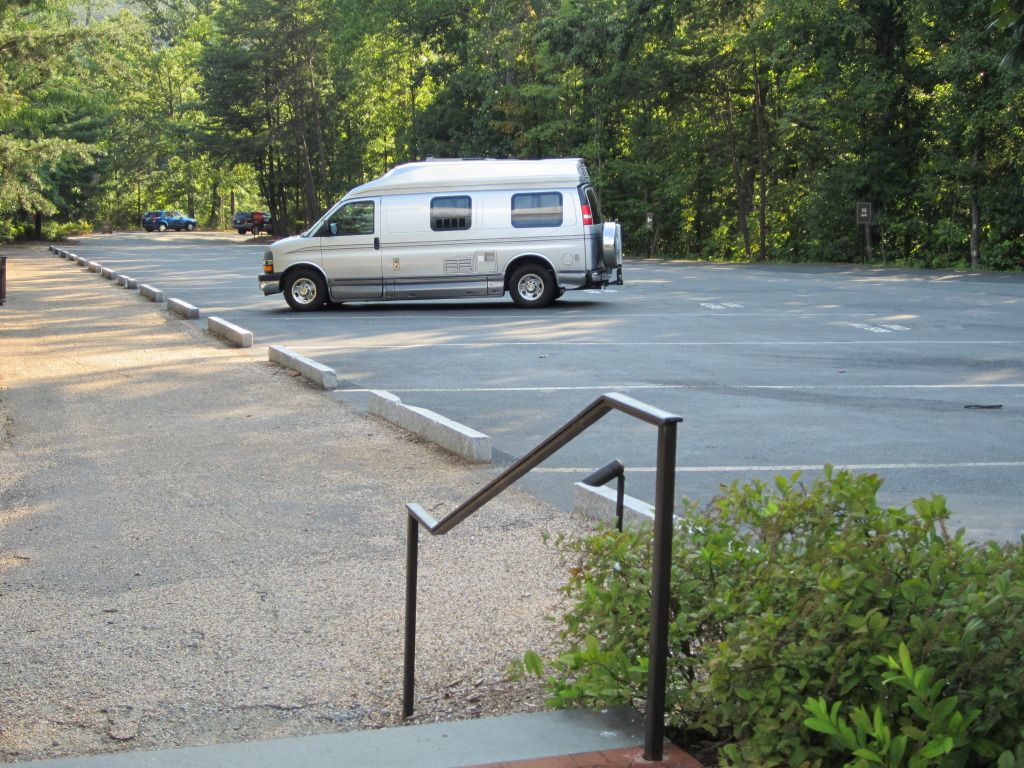 To get to Monticello, you have to drive up that mountain on a road that is one lane in each direction and it winds up the mountain. You share this road with cars, trucks, and other RVs. Along the way up you pass another historic site - Mitchie Tavern which is a restored 18th Century tavern to tour with a nice gift shop and a southern buffet lunch in a small restaurant if you have time to indulge. The Roadtrek made the climb just fine. This is another of those roads that you just drive up and then later back down at a speed you are comfortable with and avoid coming too close to the edge which in some places is unprotected from the drop down. When you arrive at the turn off to Monticello you are turning right when coming up the mountain, though Monticello is to the left. The right turn brings you into a curved entrance road that is relatively new - perhaps the last ten years and this will bring you into a wooded area and then to the entrances to the parking lot. One of the first lots that you come to is an RV lot with long spaces. We were glad to see this because we recalled the car lots with steeply angled and small spaces. We pulled in and there were just a couple of other RVs parked there. There were no other Class B's. By the time that we left at the end of the day we were the only RV in the lot, as you can see in the photo.
The parking lot is a short walk from the ticket building and the new museum complex. You are still not at the top of the mountain and the house is still above where you are further up the mountain. When you purchase your ticket you are given a starting time for you tour of the mansion which is shown on your ticket. Our tour would start in about twenty minutes so we walked through the outside of the museum complex and headed for the shuttle bus that would take us up to the top of the mountain. It is possible to walk and we usually walk down, but it is not a climb that I wanted to make in the August heat. It is a small shuttle bus and the ride up is just a few minutes. The bus filled and we were on our way up. You arrive at the top of the mountain just in front of the mansion that is surrounded by large hedges at the edge of the paved bus route. You are told to arrive at the starting point for you tour five minutes before it will start. There is more to see at the top of the mountain than just the mansion and if you are there early you have time to see them - I will tell you about them as we go along. We had just a ten minutes or so, now before our tour and we took a short walk to a small gift shop and then back to the line for the tour.
Inside the house, no photography is allowed - and there is a tour guide with you every moment inside the house so you cannot sneak any. There are some very nice books of photography inside the mansion for purchase in the bookshop in the gift store along with postcards of the inside. Inside you will see the mansion as it looked and many of the furnishings are original having belonged to Jefferson. Jefferson lived here with his wife and their children. When his wife, Martha (yes, just like Washington, Jefferson married a Martha), passed away after just ten years of marriage, Jefferson promised her that he would never marry again, and he lived in the house raising his girls. Later when they married, they remained with their families and Jefferson was always surrounded by his children and grandchildren. Entering the house you come into a large foyer which Jefferson used as an exhibit area showcasing items sent to him by Lewis and Clark on their discoveries. This is a museum in itself with artifacts from dinosaurs, wooly mammoths, and native Americans. This is as it was when Jefferson lived here. As you walk through the house with your guide, you will see the sitting room that Martha Jefferson and later the oldest daughter used as to run the household, Jefferson's library with Jefferson's books on the shelves. Jefferson's office, Jefferson's bedroom with the bed that Jefferson slept and died in, a parlor, two dining rooms. You exit the house through a bedroom that was the favorite for Mr. Madison and his wife Dolly to stay in when they visit and was called, "Mr. Madison's Room" by the grandchildren. You come out of the house onto one of the porticoes on the side of the house.
From here you are on your own to explore. Looking out from the portico toward Charlottesville through a telescope you can see the University of Virginia dome and Jefferson often came out here to watch the progress of his design being constructed. You can walk around Jefferson's garden, tour his kitchen garden, and also see Mulberry Row where the slave quarters are. You can also go beneath the house to see the kitchen, the wine cellar, the clock weights below the main floor, beer storage and bottling room, and the necessary (outhouse). There are also the house stables and garden room on one side.There is a great deal to see and in addition there are several guided tours around the property outside that you can take that are included in your admission ticket. There is one tour that is not included and that is a lot of money and only takes place on certain days, and that is a tour of the upper floors of the house, particularly into the dome room. Contact them in advance of your trip if you would like to do that - and find out if it is available when you will be there.
After our tour of the house we walked around the grounds, took the Mulberry Row guided tour, and saw all of the rooms below the house. We usually walk back down the mountain and we wanted to be sure to see the new musuem. On the way down we stopped at the family cemetery and looked at Thomas Jefferson's grave and the obelisk that marks it. The walk down is pleasant and through the woods on a path. It is not really steep though if one has any problem with a path like this you can get the bus down either where you got off or at the cemetery gate.
We went directly to the new museum building. In the past there had been a Thomas Jefferson museum with personal belongings and details of the house in a building a few miles away at the bottom of the mountain on Route 20. Our expectation was that they took what was there and added to it. We imagined a very large museum much like the new musuem at Mount Vernon, home of George Washington (I will write about Mount Vernon in the very near future). We walked into a room that was not very large in a much larger building and basically saw what we had seen in the past in the old museum. If you have never been to Monticello then you are going to like this museum, but if, like us you had some hopes about a technology rich and artifact full museum, you are going to be disappointed as we were. In fact, some key things at the old museum were missing from the displays here - one being a book shared between Jefferson and his wife that played a significant part between them at the time of her death. There was more on display about the architecture of Monticello and Jefferson the architect than there had been before. It was just our expectations. I am sure that they feel that they have created an excellent museum. We just wished it to be more. Outside the museum there is a small restaurant with pre-paid sandwiches and snacks. There is also a children's hands on area. There is a theater that runs a continual showing of an interpretive film about Thomas Jefferson. Of course, there is also a gift shop and bookstore.
We spent about five hours or so at Monticello. This is not a place to come and not spend time. What you are looking at is what Jefferson looked at and what he loved. You look out off the mountain to the surrounding country side. You look at what inspired one of the great founders of this country. If you have never been you should go. Before we stopped traveling and before the Roadtrek we went every summer. We will certainly be going back. I have seen it many times, but there is always something new that I learn each time I am there. I love coming here. There is a feeling of serenity that you get when you are here, especially looking out from Jefferson's mountain.
Rear View of the House














Side of the House
Workman's Living Quarters - one of the two original buildings on Mulberry Row


Mansion Kitchen
Garden House - Jefferson would sit here and read
View from the top of Jefferson's mountain
This is all that there was of Monticello when Jefferson brought his bride there to live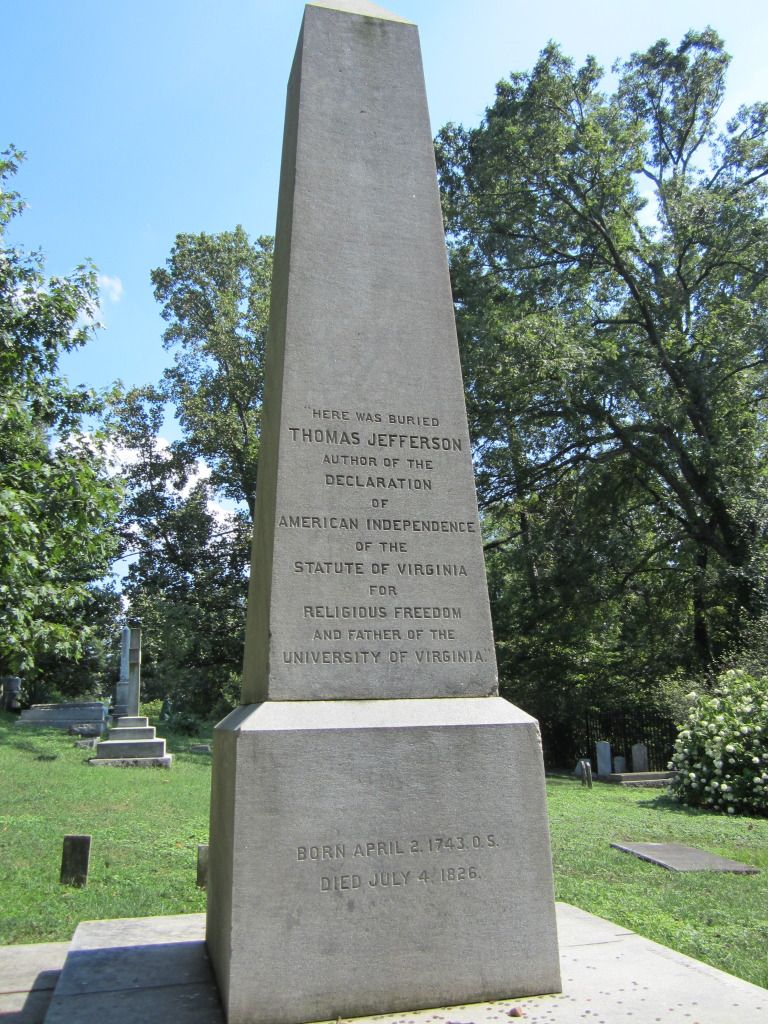 Jefferson's Grave Stone- Jefferson wrote what he wanted on his stone and this is what he wanted to be remembered for
Jefferson's Necessary - this is below the house and where Jefferson went to do what is necessary