We left Williamsburg and headed back north. We were stopping for the day at Mount Vernon, the home and "farm" of George Washington, located in Alexandria, Virginia. We would not be spending the night in a campground near here and, as a matter of fact, campgrounds in this area are few and far between.
As we headed north on I95, we decided that we would stop for lunch at a fast food restaurant. I had decided to wait until we got almost to the exit that we needed to take to make our way to Mount Vernon before we stopped for lunch. I should have stopped earlier, because as we came up to the last few exits before we needed to head east to Mount Vernon a sudden, severe storm came up. In a heavy rain storm in the Roadtrek you slow down, but keep up with vehicles in front of you to be able to follow their lights when visibility becomes reduced. This is exactly what happened and it was difficult to see what was ahead. As it got worse, we came upon the exit for Mount Vernon and we very cautiously and slowly got off the road. As with every other day of this trip the forecast was - you know it, if you have been reading along in this series of articles - scattered showers and isolated thunderstorms. This was far from a shower. It was a heavy downpour with strong winds. The road that I exited on was a mix of country road and commercial two lane highway. When we saw a safe place to turn off, I did and we just sat in the Roadtrek watching the rain come down pounding on the roof, hoping that it would let us and we could continue along. These storms seem to come and then go in Virginia and almost as sudden as it started it let up. We pulled back onto the road and headed straight for Mount Vernon. There would be no stopping for lunch. I just wanted to get there hoping that the rain would completely stop. And when we arrived, it did.
This was not our first visit to Mount Vernon. We have been there many times, but never before with the Roadtrek. Several years ago, there were some additions built at Mount Vernon and now in addition to Washington's house, the outbuildings, his tomb, and his farm, there is a wonderful education center and also a museum. You can spend a lot of time here and we spent a full afternoon which was not enough time to see everything. We did not go down to the farm which sits along the water of the Potomac River and we did not spend time with someone who works at Mount Vernon who portrays an exceptional Martha Washington who happens to be a friend. We did stop for a few minutes to see her while she was doing her portrayal. Plan to spend a full day. In fact, if this is a first time visit, I recommend two days. You can purchase a ticket good for a full year for just a little more than a single day ticket and you will be able to come back whenever you want. The year the new education center/museum complex opened we spent two full days at Mount Vernon and still did not go to the two locations off the main property - Washington's mill and Washington's distillery.
Washington lived in this house with his wife, Martha, and Martha's two children from her first marriage - Patsy and Jackie. Patsy died of an epileptic attack in Washington's arms here at Mount Vernon. Jackie died of disease at the Battle of Yorktown, but he was married and had children of his own. Two of these children came to live with George and Martha while two others went to live with their mother and other grandparents in Philadelphia. Washington raised Martha's children and grandchildren as his own.
When you are ready to move on, you go up the stairs and you will see all of the bedrooms on the second floor. Some were used by guests. Some were used by family. There is a tour guide on the stair landing to talk about what you are seeing. When you walk through the open bedroom ahead on the left you are approaching the most private part of the house - George and Martha's bedchamber. Another tour guide meets on in this narrow hallway. The bedroom door is on the right at the far end of the hall. The furniture that you see is all original and the room is as it was the day that George Washington died. The bed that you see is the bed that Washington died in. He died from a swollen throat that cut off his breathing. There were three doctors in attendance that night. The youngest suggested a new procedure that he had read about - one that today we would call a tracheotomy. The other two physicians thought that idea was barbaric and refused to allow it to be done. The two continued to bleed Washington - and accepted procedure of the time. That young doctor's suggested procedure would have saved Washington's life. When Washington died the clock on the mantel was stopped by Washington's "personal" physician and friend. The clock remains as it was on that night. Martha closed the room and never slept in it again. There are special tours at extra cost that will take you up to the room that Martha moved into after Washington's death. This small, pleasant room is below the cupola in the attic. The room had been open with regular house tours during Christmas. Now that they are offering this special tour with an additional ticket, I am not certain that they are including that room during the Christmas season any longer.
After you have seen Washington's bedchamber, you go back down on a narrow stairway to the first floor. You will walk through a narrow hall to Washington's office. Of course, another tour guide is there to tell you about the room and all of Washington's personal belongings that are in it. This leads you to the end of the house tour and you exit out to a portico that will take you to the kitchen building.
You may now tour the grounds. Look into any of the outbuildings. There are guided walking tours of the property that are included in your ticket with themes like Plantation Life and The Gardens. Once outside the paths become slightly steep. You go down hill to the Farm and half way down you can stop to see Washington's tombs - the original and the one where he and Martha rest now which is a more ceremonial tomb that Washington was moved to several years after he was placed in the "old" family tomb. Every day there are ceremonies held at the tomb and two veterans in the crowd are selected to come up, enter the tomb, and lay a wreath at Washington's feet.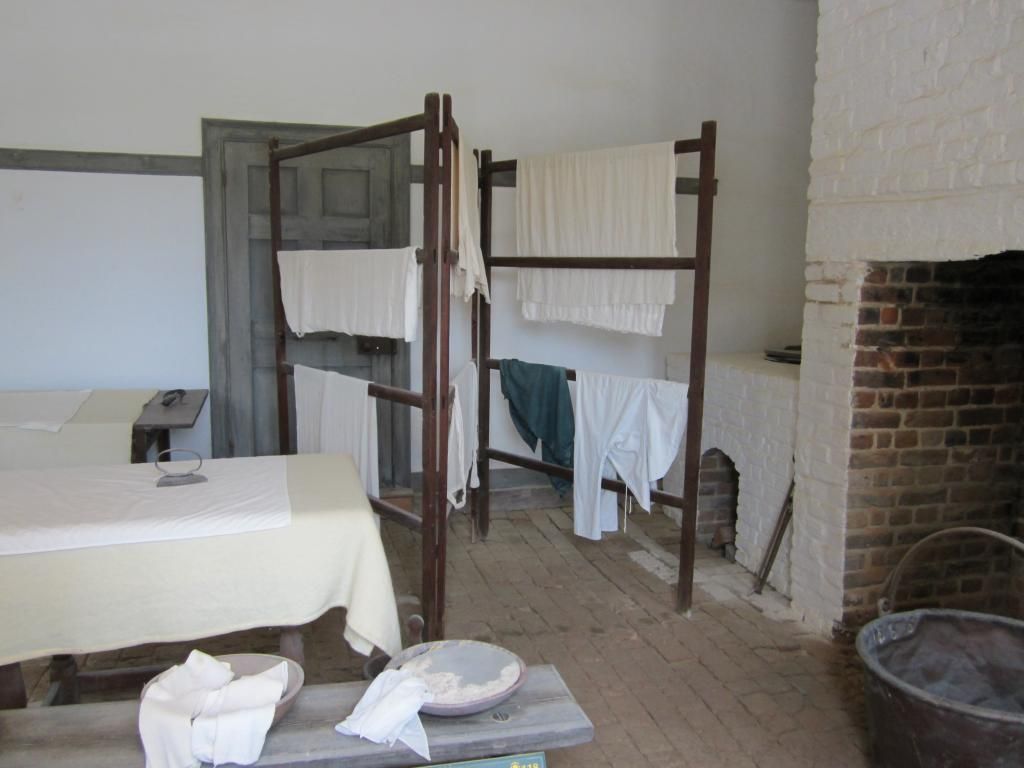 Laundry
Overseer's Quarters


















Stables
There is a special walking tour being offered now at Mount Vernon. It is not cheap, but if you are a fan of the movie, "National Treasure II", you will be taken to all of the sites that were filmed in the movie including the "secret chamber". Call ahead to find out when this tour is given if you are interested.
When you finish seeing the property, head back to the Visitor's Center. There is a lot more to see. Start with the Education Center. Here you will learn about Washington's life thorough state of the art interpretation exhibits. You first learn about Washington's boyhood with a brief film shown across the top of a wall in which the young boy grows to a young man as he moves along the wall. You next come into what looks like a scientific laboratory where you will see how a remarkable recreation was made. There are portraits of Washington as an older man. There is a bust of Washington as an older man done by Houdon that is said to be an exact likeness down to size. Scientists have taken that bust and the life and death masks that were made of Washington and created three dimensional figures of what Washington most likely looked like as a young man, when he was General Washington in the Revolutionary War, and when he was inaugurated as the first President. There are no known contemporary images of Washington as a young man. As you walk out of the laboratory you walk into a forest and encounter Washington - young man and surveyor.
Continue through the Education Center and learn about Washington the man. When you get to the Revolutionary War years there is a must see - in fact, we often go into this more than once. But I will keep you guessing for a few moments to share with you Washington, the general.
Across from Washington is a theater with continuous showings. Go in for a very unusual experience. You will see three battles of the Revolution shown to you on two screens but with effects that will shake you in your seat when cannons roar and real snow that falls down on you as you are shown the soldier's winter at Valley Forge. This is terrific.
After the theater, see the exhibit about George Washington, Spy Master and also the artifacts from the Revolution. As you move along now you will see Washington, the civilian and Washington, the farmer. You will also see Washington's false teeth - and no, they are not made out of wood. They are made from human teeth, rhinoceros teeth, and ivory all fit not very comfortably into a metal frame with springs to open and close them. You move from here to Washington, the President.
At the end of the exhibit area is Washington's death and you will see a replica of his coffin, some actual pieces of the casket, and learn about the funeral. With this you enter a hall out of the Education Center with another theater. This is a brief film in the round that shows Washington's legacy on America.
I should add that if you have children with you, there is a children's exploration room in the Education Center that will let the kids put on 18th Century clothing and experience the life of children in the 18th Century. It is located after the Revolutionary War section.
As you exit the Education Center you come to the Museum. Here you will see Houdon's bust and a cute film about the observations of his granddaughter when it was made. You will also see original Mount Vernon furnishings and furniture up close and items belonging to George and Martha. The Museum also has temporary exhibits that change.
When you have completed the Museum, walk along the long hallway that takes you to the Visitors Center that has two large gift shops and also a food court. If you recall, all the way back at the beginning of this article we arrived without having stopped for lunch. We wound up eating in the food court and paying over $7 each for a basic hamburger. The food court is not inexpensive. A soda was $3.
Mount Vernon is open 365 days a year. Hours do change according to season and you can check out every detail about visiting Mount Vernon on their
website
. I highly recommend that you visit Mount Vernon if you are visiting Maryland, Virginia, or Washington, D.C. I have to say that since the Education Center opened it made the visit very much more than just touring a house.
Washington played the Lottery