We left Monticello and started directly for out next stop - Williamsburg, Virginia. Monticello to Williamsburg is a direct route east on Route 64 with a bypass around the city of Richmond on Route 295 and then back on to Route 64. The trip is all of two hours and there is not much of a concern about traffic.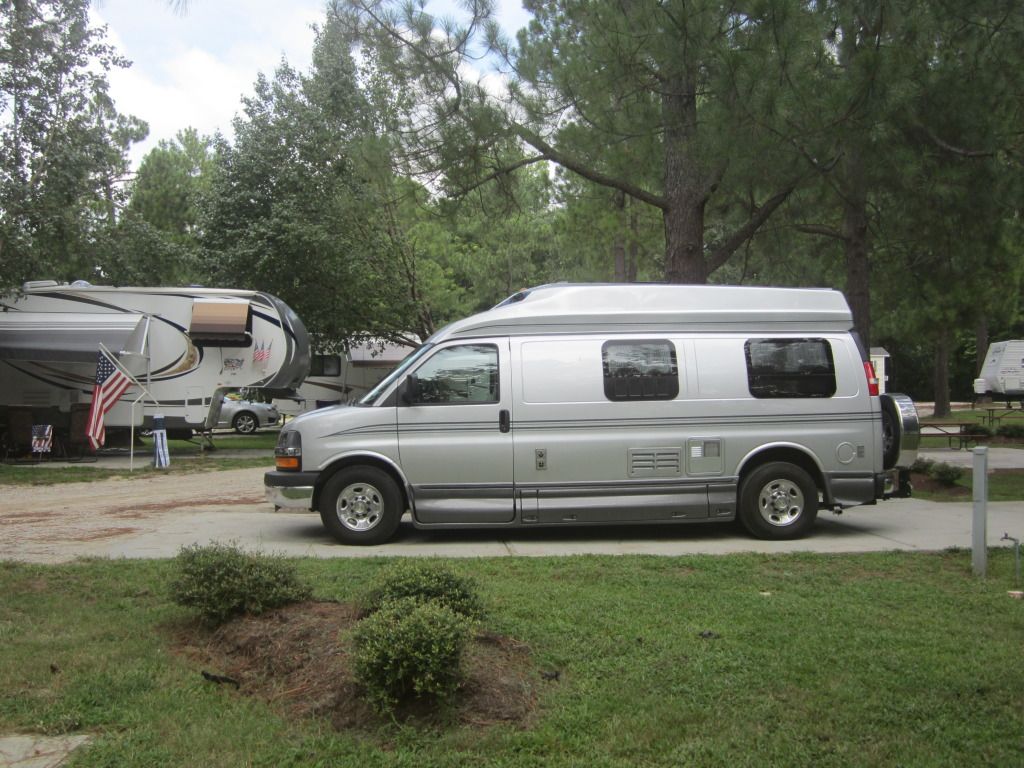 Directly off Route 64 in Williamsburg is American Heritage Campground which is our campground of choice in Williamsburg. I have written about this campground before and there is not really anything to add - though the space that we were assigned was not as level as the other spaces that we have had here in the past. When I backed into the space I found a place on the cement pad that was close, but just off to the passenger side. Other spots on the pad that I tried were way off. Looking later at the cement, it could be seen that it had sunk down toward the left side looking head in. I had an idea to somehow mark the spot that I found that was level - and this should not be hard on the cement. We put down three twigs as a temporary marking. One at the side of the front driver's side wheel, one at the side of the rear driver's side wheel, and one at the back of that same wheel.That night, I bought a box of sidewalk chalk - which washes away completely with water - or the rain (which we later in our stay saw for ourselves). That night I came as close to the twigs as possible. With the chalk we marked the same locations we had placed the twigs. The markings remained for the stay - until it rained heavily one night toward the end. The chalk idea works - if you are on a cement or asphalt pad site. It does not work on gravel. (I will share my new and improved marking system in a later article.)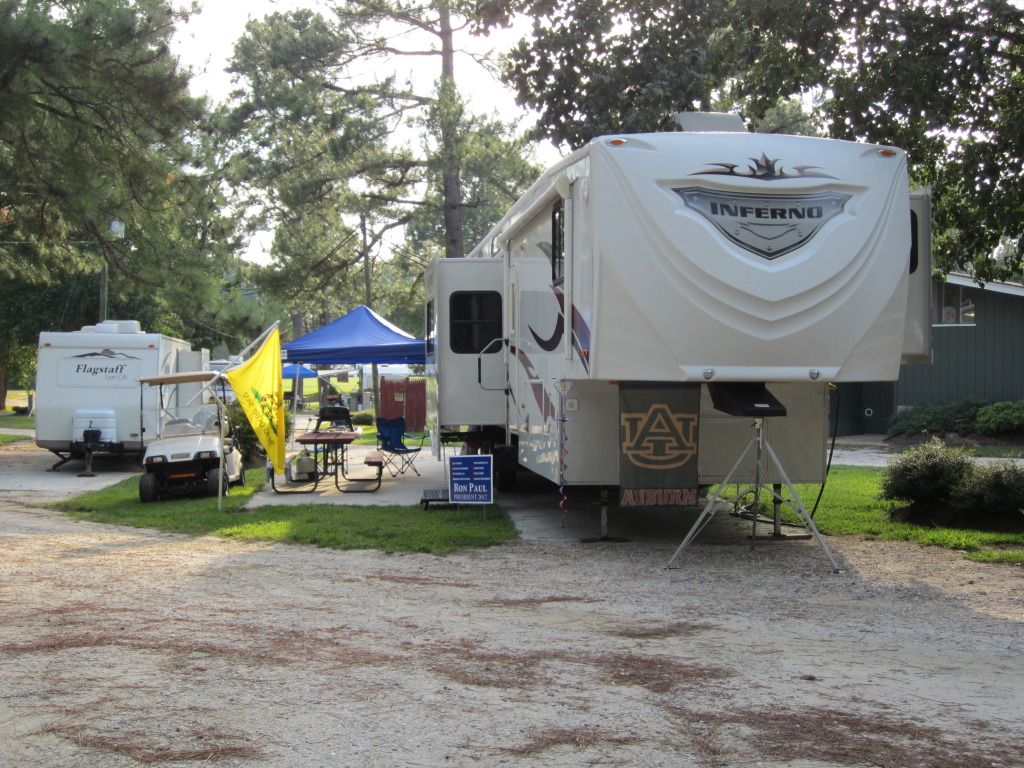 One of the many nice things about
American Heritage Campground in Williamsburg
is the nice landscaping around the spaces. Spaces also have shade trees - though at this campground you do not get the atmosphere of camping in the middle of the woods. That is fine with us. But many here - more here than the other campgrounds we have been too - do their own decoration of their sites. Some really to extremes. This was the site directly across from us. And you can see in the photo all that he has put out - including a political sign (in August well before the elections). If one is traveling to an area where there is little to do in the way of local attractions, I could understand making a comfortable place to be during the day at the campground, but here in Williamsburg there is nothing but attractions to fill all of your time. At this campground and a couple of others we see people spending the day sitting outside of their RVs or trailers and spending the day there. If they were walking a nature trail or this was off in the forest surrounded by nature, or there were tennis courts or a golf course, I might even understand that - but they seem to spend the day looking at the view - which is the trailer or RV next to or across from them. And the golf carts! In the photo you see off the the left a golf cart. No he did not bring that with him. You can rent these at many campgrounds. This campground is not so large that there is nothing that the campground has to offer that is not within very fast and easy walking distance. The building behind his fifth-wheel trailer is the bathroom/shower building. So certainly, there was no need for a golf cart to get there. No, you can't take the golf cart off the campground property so there is on traveling out that is possible with it. I really don't understand the golf carts.
American Heritage Campground Sites


We spent our time here for the most part at Colonial Williamsburg (CW for those who work there and come there often). Because we were were here for ten nights, I had also planned to go to a few other area attractions. As you will recall from Part I - the weather forecast every day though this trip was "Scattered Showers and Isolated Thunderstorms". Each morning it became a routine - get up, look out the window (the Roadtrek skylights in the front make this easy) and check the weather for the day. Each day was overcast. The question was - would it rain. And if it might rain, would we want to go somewhere and pay an admission to an outdoor attraction in the rain. It was one of those trips where you just wanted to yell at the sky and say "I am on my vacation, make the sun come out!" - it didn't work. We spent each day at Colonial Williamsburg with one day at Jamestowne Settlement. On two of those days at CW, it was actually pouring.
I know of a little known parking area for Colonial Williamsburg that is usually empty and easy for RVs to park in - even those larger than our Roadtreks. I have thought about whether I am just going to share the location of this parking lot - and I have decided not to. Contact me only by email if you would like to know where it is. On one of the raining mornings we parked at this lot and started out with our fold up rain jackets on. Just because it is raining, does not mean that the temperature is cool and the rain just increased the humidity on this already hot day. As we walked around Colonial Williamsburg, it was just too hot to wear the jacket and just as we were peeling them off - the rain stopped and the sun actually peeked through the clouds. The next time it actually did rain, it was pouring and this time it did not stop. We spent the day inside CW's museum building - after waiting a considerable time for the rain to at least let up enough to go outside the Roadtrek and disconnect the electric cable from the campground outlet without getting electrocuted.
Raining or not - always click the campground outlet's circuit breaker OFF before removing your plug. The circuit breaker is generally right above your outlet and it is marked "30 AMP". Do this also when plugging in - turn it ON only after you have plugged in.
There are free lockers in the museum and we stashed our rain jackets there and spent a nice dry afternoon inside. The rain was so severe that day that there was heavy flooding within twenty miles of where we were.
I am not going to go into detail about Colonial Williamsburg but I will say that last year, I was not happy to see the overemphasis on "production-like" programs without any real interaction with the public. This year that has changed - at least a little. And we spent time talking one on one with several "people of the past" during programs. We, actually spent a lot of time attending programs - something that has not been offered as much in several years. Despite the uncertainty of the weather, we had a very good time in Colonial Williamsburg. Here are some photos -
People you might see -
Patrick Henry
















Thomas Jefferson


General Geoge Washingon and Staff
British General Benedict Arnold who led the British troops to capture Williamsburg in 1781
Building a mold to cast a brass cannon


I usually don't talk about where we eat when we are traveling but we had dinner in a restaurant in Williamsburg that I just have to share. The name of the restaurant is Pierces Pit Bar-Be-Cue and it is located at 447 East Rochambeau in Williamsburg, Virginia. The food is - barbecue - and I had some of the most wonderful ribs and pulled pork that I have ever had. It is said that really good ribs are fall off the bone ribs - and the bone came out clean from these ribs. The sauce was not to overwhelming or excessively sweet. This is not a waitress restaurant. You order at a counter and wait for your number to be called to pick up your food. There are tables both inside and outside to sit at. There is extra sauce at a counter and soda machines to fill and refill your soda cup. I have been to regular restaurants for ribs, but these have been for the most part, chain barbecue restaurants. Pierces is not a chain - and everyone local knows about it. Expect to wait on line before you get up to the counter. It is worth the wait.
We left American Heritage on our last day and headed north toward Mount Vernon which was our next attraction stop. We would be not be staying over night there, but would be moving on from there to Pennsylvania for a few days before we headed home.
As I said, we did go to Jamestown Settlement and I will write about that in two weeks. I will write about Mount Vernon - and our exciting ride in the Roadtrek in a bad storm to get there, after that. Next week we will take a little detour to a mod I made while in Virginia.